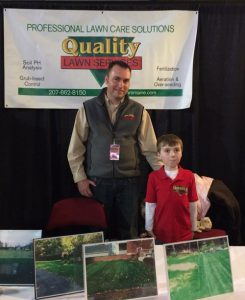 Quality Lawn Services is a locally owned lawn care company offering Professional Lawn Care Solutions including fertilization, weed and insect control, grub control and many other optional services.
Our service covers the greater Bangor area, including surrounding towns and cities within a 25 mile radius. We also service a few selected areas on the coast, such as Bar Harbor and Blue Hill.
Collectively our staff has over 75 years of experience is dealing with lawn and pest related issues.
We consider it a privilege to provide services to our customers treating your property as if it were our own. You, our customer, will take pride in knowing your lawn is cared for by experienced lawn care professionals. We follow the State of Maine guidelines for Best Management Practices for lawn care as well as IPM (Integrated Pest Management). In addition, we use "Caution Label Control Products" (the least toxic on the market) as well as phosphorous free fertilizer around waterways.
Quality Lawn Services is Your Best Choice for Lawn Care in Central Maine.
When choosing a lawn care company, there are many things to consider in order to make the best decision regarding your lawn. Lawn care companies are far from being "all the same". With Quality Lawn Services, you'll have the assurance that your lawn will be treated professionally with quality materials and lawn care professionals who really care about you and your lawn.
We are Central Maine's fastest growing locally owned lawn care company. This is because we do a better job, use better products, and keep our customers satisfied. This has allowed us to grow more every year which helps our customers receive even better service and a faster response.